Even before the exhilaration of returning to gatherings that include food and other events, consumers were looking to get more out of what they do and buy.
According to a survey from Momentum Worldwide (released in late 2019), 76% of consumers said they would rather spend their money on experiences than on material items. The quest for such experiences has played out in many ways, on social media and in shifting cooking and purchasing habits.
"Take into account the sourdough trend that started in 2020 and became a food that everyone was making," said Ricardo Moreira, Senior Product Manager, Preservation at Lenexa, Kan.-based Corbion. "This trend gained legs and become a phenomenon, fueled by sharing videos on Tik Tok, Instagram and how-to Facebook pages. Presenting an easy-to-do concept became something that thousands, if not millions, of folks wanted to try."
The notable shift has implications for brands and companies, who can take the opportunity to reset their strategies and engage with consumers to provide unique and often tailored experiences through food.
What do those new or elevated experiences look like? In restaurants, experiences can include anything from presenting artisan pizza "flights" with several different varieties to unique preparation methods, like steaks prepared on a sizzling rock in front of the diner. New ways of offering favorite menu items to go, like batched cocktails or themed dinners for two, four or six people, also put an inventive spin on food and drink experiences.
At retail, consumers can take part in a host of experiences, both in store and via products that can be taken home. Retailers are creating memorable in-store experiences, such as creating demonstrations of hand-pulled mozzarella or bringing in chefs to show how to create recipes.
As their customers are increasingly exposed to interesting foods through social media, restaurant dining, streaming platforms and other activities, food manufacturers and retailers also are devising ways to provide shoppers with experiences that they can create or replicate at home. These efforts can include providing value-added, ready-to-cook proteins or, for other occasions, curated meals to go, such as a restaurant-style steakhouse meal or slow cooked el pastor for street-style tacos.
For consumers who like to have a hand in meal prep – especially those who first got into cooking or who brushed up their food knowledge while staying at home last year – semi-prepared meal solutions that can be enhanced or customized are proving appealing.
"From a flavor and preparation aspect, more producers are providing different options in a "semi homemade" space. Items like sous vide meats with sauces, uncooked meats packaged with marinades or other pre-seasoned meats make it easy for home cooks of all different experience levels to have an authentic or elevated meal at home," said Moreira, "Such offerings help bridge a gap, too, giving consumers a chance to try new flavors."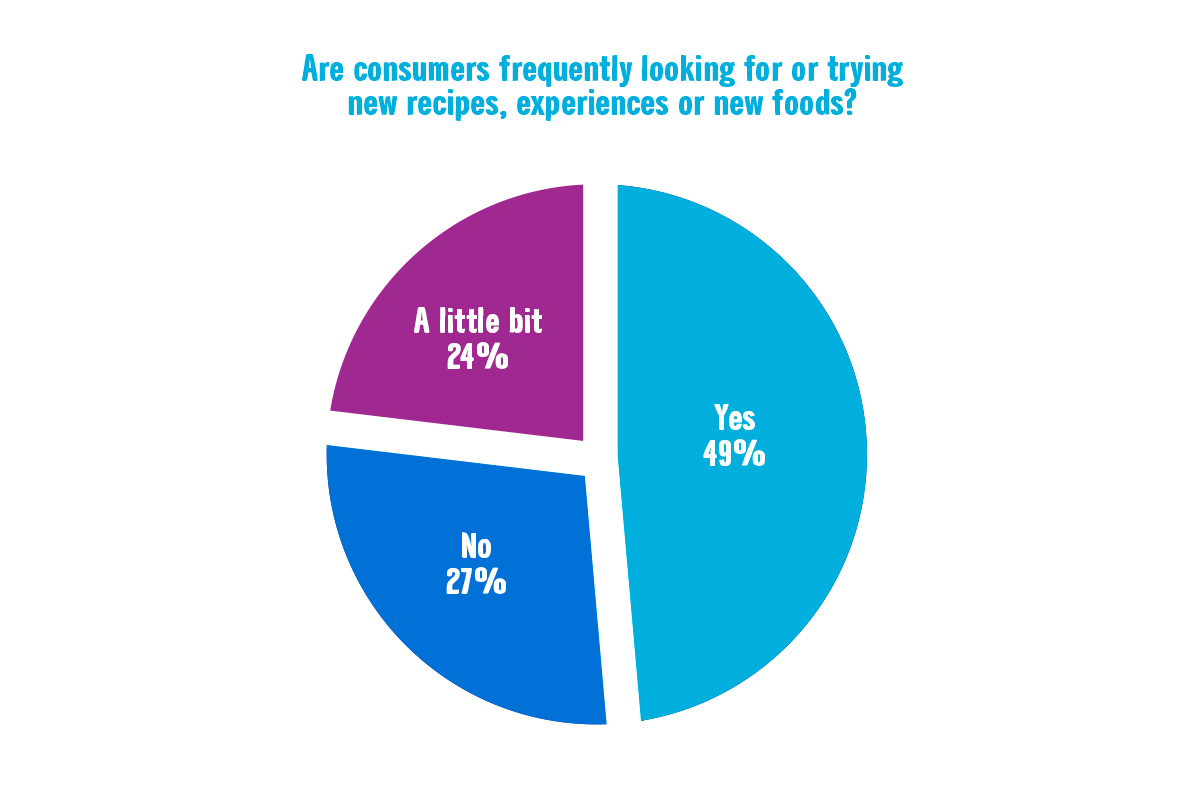 Sensing an Opportunity
Harnessing the power of the senses is another key way to connect with today's experience-seeking consumers. Just ask anyone walking by an in-store café that is cooking up bacon or a restaurant that is grilling or smoking meat about the power of enticing aromas. Meanwhile, charcuterie boards have proven so popular because they feature a pleasing combination of tastes, textures, shapes and colors.
On a product level, creating affordable, natural and inclusive sensory experiences adds value to virtually any kind of item and piques consumers' interest. For an even easier gateway to novel sensory experiences, ready-to-use or ready-to-enjoy products like meal kits, par-made meals and take-home meals entice curious customers. For example, par-grilled meats can satisfy consumers' tastes and desire for an easy-to-serve meal. Natural flavors can be used to mimic the taste and smell of freshly grilled protein, making it easy for processors and retailers to offer that solution.
As people seek out experiences through food, their senses also can be engaged with products that evoke adventure. Regional and global offerings provide a roadmap to new and enjoyable tastes, smells and sights and can be delivered in everything from Asian noodle bowls, fresh Mediterranean fare, or even Spanish tapas.
Keeping It Real
While consumer experiences through food can take many forms, authenticity is the lynchpin in the connection between people and brands/companies. Consumers are searching for authentic experiences that suit their own tastes, preferences and lifestyles.
Authenticity can include flavors rooted in history and culture as well as the way a particular product was grown, made or produced.   Those who produce and sell foods can engage consumers and enhance connections by sharing stories about how products were raised or made – and by whom – on package labels, social media, and in-store signage and in personal interactions with brand ambassadors or store staff.
On that point, part of the eating experience involves feeling good about a particular product or meal. Was it made using natural ingredients? How was it manufactured or processed? Does it offer certain health and wellness benefits, like low sodium content or high protein? Before and certainly after a global health crisis, consumers are focusing on attributes like sustainability, simple ingredients and nutrition and having a natural derivation or sustainability story around a product can help strengthen the overall experience. As manufacturers work to satisfy consumers' ever-growing interest in unique food and flavor experiences, they can team with partners who provide valuable input throughout the process.
"From a product development perspective, meat processors and manufactures can balance several components to create a great, memorable food experience, starting with raw meat components, current operational set up, and meeting dietary issues such as sodium or sugar content," remarked Garrett McCoy, R&D Manager at Corbion. "For Corbion, can we provide input early in the innovation or development process, identifying trends, not negatively impacting attributes such as slicing, sodium content and flavor profiles."
Meanwhile, while the early part of this decade has been anything but certain, it's clear that consumers will continue to look for inspiration, nostalgia and other experiences through their food journeys, in a range of ways during the coming years.