The Importance of an Omnichannel Strategy for Meat Purchases
The pandemic sped up the shift from shopping from traditional brick-and-mortar grocers to online. It is now up to manufacturers and retailers to begin to make quick changes to meet the changes in habits and demands of online consumers with an Omnichannel approach. For instance, before the pandemic, only about 25% of shoppers had ever purchased meat or poultry online. By March of 2021, 53% of online meat shoppers were buying most of their meats online, according to a study by Midan Marketing.
The transition from traditional shopping to online changed consumer awareness about brands, packaging claims and values. Shoppers want simpler claims that convey real ingredients with premium quality and taste. Health quickly became a priority, which meant that consumers sought out more free-from claims for preservatives and looked for functional food benefits from antioxidants and healthy fats.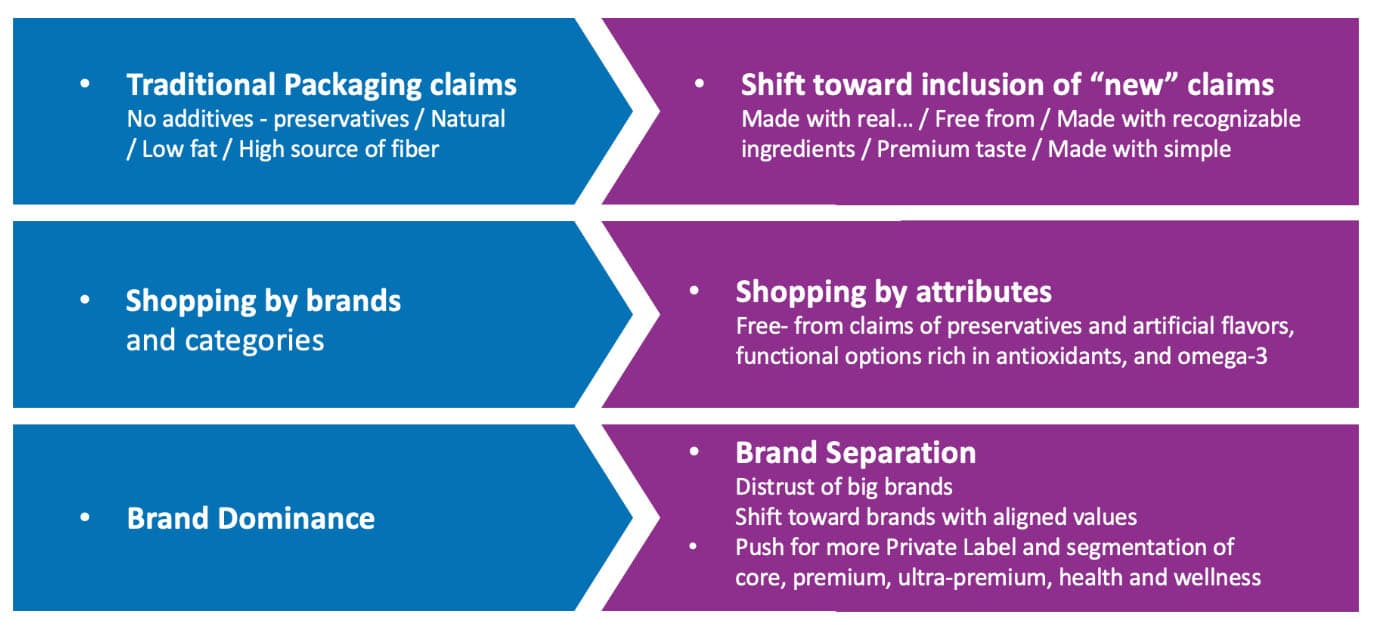 When talking about omnichannel shopping, the Millennial generation is a key demographic to focus on. The habits they formed during the pandemic will have a significant impact on the future of grocery shopping.
Keeping Millennials Happy with Online Grocery Shopping
Shopping for groceries is something that all generations of adults share in common. After all, we all have to eat. But among the six cohorts that make up America's grocery shopping population, Generation Z and Millennials actually enjoy grocery shopping. Boomers see it as a necessary chore, while Gen X shoppers are somewhere in the middle.
Boomers were the largest demographic until 2020. Since then, Millennials have surpassed Boomers as the majority demographic. The younger consumers, Gen X and post-Gen X are just a little behind. Twenty-nine percent of shoppers are under the age of 40. Get to know what motivates this dynamic group of consumers.

So how do Millennials grocery shop? What motivates them?
Like all demographics, younger consumers have had to make choices in this inflationary economy. A majority of consumers (65%) say they are buying fewer items and about 40% report they are buying generic or private-label items to cut costs. However, how they buy is unique and what they buy differs from other demographics.
Supermarkets are the preferred grocery shopping location for all ages; however, Millennials are more likely to shop online for food than other demographic. One quarter does most of all of their grocery shopping online, with 31% of urban residents and 21% of rural Millennials buying most of their groceries online, according to Morning Consult's "Most Trusted Brands: Retail and E-Commerce" report.
The group is divided as to why they shop online. Some are starting new families and need more convenient solutions, while others are delaying having children or opting not to, which means they have more discretionary income to cover delivery and service fees.
Online shopping adds convenience for consumers, but it can be difficult to shift away from traditional forms of marketing to attract attention. Here is what Millennials want from their online and in-person shopping experiences:
They like social media promotions and coupons.
Customer reviews are big motivators to add items to their carts.
Shopping online and finding new discoveries inspires them to try new products.
Many are new to cooking and eating at home.
Even though their budget may be limited, they are looking for better-for-you, better-for-the planet and better-for-the-animal options in fresh and frozen, including organic, never-ever for antibiotics and hormones, grass-fed, vegetarian diets and sustainable farming methods.
Short social promotional videos, or shorts, on YouTube are the preferred medium to learn about new products and new cooking techniques. Millennials trust YouTube over other online platforms.
If you provide fun, innovative videos with a spontaneous feel, Millennials will watch again and follow your brand from one channel to another.
Millennials are the future of your business. Their online shopping habits are something they grew up with and are not likely to change. So, sharpen up your mobile site, align your digital marketing across platforms and channels and start making product and instructional videos. Your new customer is waiting.
---
Sources:
Corbion Proprietary Research, 2022
Morning Consult, Most Trusted Brands, Retail and E-commerce Report.
https://mtb.morningconsult.com/retail-2021-scl/key-takeaways/
Think With Google, 3 things brands should know about the way people shop today.
https://www.thinkwithgoogle.com/marketing-strategies/video/build-brand-loyalty/
IRI, Demystifying Millennials and Gen. Z, Why Sustainability Efforts Matter to Meat's Future Consumers.
Midan Marketing, March 2021, https://midanmarketing.com/all-reports/.